MORE BOOKS By The Artist - Sylvia Ion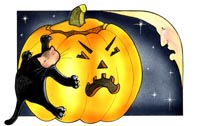 This title, Jack-O-Faces is perfect reading for the month of October, Fall, or Halloween.
BOOK REVIEW: JACK-O-FACES explores a range of emotions using expressions on a jack-o-lantern. Jack is happy when a purring black cat rubs against his cheek. Jack is sad when his candle goes out and no one has a match. Jack becomes sleepy and curls up with the black cat while the man in the moon snores as well. Jack is mad when the cat jumps on him and punctures him with its claws. The cat must be lifted away in order to make a pumpkin pie out of Jack. All agree that this is when Jack is truly "best of all!"
Download 8 1/2 X 14 LEGAL
All Versions include Black Line Master
Color $35.00
Black & White $15.00
Download $12.00